Surface Engineering Division (SED) has been pursuing research in surface modification technologies for aerospace, societal, automotive and engineering applications. Envisaging the role of surface engineering in the future and realizing the importance of related activities in an aerospace laboratory like NAL, a separate unit, viz., Surface Engineering Unit, was formed at CSIR-NAL in the year 1996. The Unit was subsequently accorded a full-fledged divisional status and SED came in to existence in the year 2002.  During the initial years, with handful of people, activities of the Division were mostly on the metal finishing techniques. In the last two decades, the Division has undergone a significant change in terms of the strength, activities, projects undertaken and infrastructure.
 "Concept to commercialisation" has always been the thrust of the Division. Some of the major technological contributions of the Division include: development of highly polished aluminum mirrors for satellite applications, cost-effective "NALSUN" black chromium coating technology for solar water heating applications and nickel plating process for seal disc of nuclear reactors. Over the years, the Division has diversified its activities in to the niche areas of tribology, energy, nanoscale architecture, sensors, etc. For instance, the service-life of 55 HP Wankel engine has been enhanced with the deposition of wear resistant nickel-silicon carbide coating in the trochoid. A stable binary pressure sensitive paint has been formulated and validated as an alternative to the conventionally used discrete pressure taps. In the energy sector, a promising coating for solar thermal power generation exhibiting an exceptional thermal stability has also been developed. The activities on GMR based sensors have now evolved into a matured technology. Tape casting technology for the development of dense alumina and zirconia substrates has been transferred to industry. The Division also has expertise in eco-friendly chromic acid free anodization and sealing processes for the corrosion protection of aircraft aluminum alloy.
CURRENT RESEARCH ACTIVITIES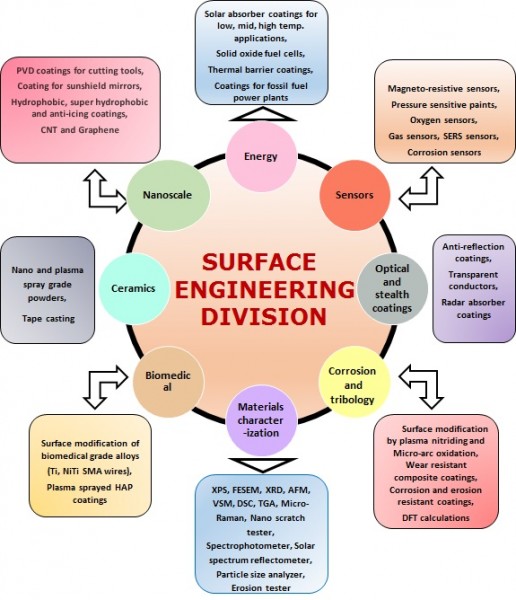 Valued Clients, Sponsors and Collaborators 
Government Agencies: ISRO, DST, MNRE, BRNS, BARC, NMRL, DMRL, ADA, ADE, VRDE, HAL, BHEL, ARCI,   SSPL, DEBEL, GTRE, VSSC, DRDO, NRB, ARDB, MTRDC

Industries: Thermax, CUMI, TVS, TaeguTec, Jayashree Electron Pvt. Ltd., Esya Eng. Pvt. Ltd., Pricol, Sutures India Pvt. Ltd., AIP Pistons, Bhagyanagar India Ltd., Akonitech Pvt. Ltd., Nice Technologies

Academic Institutions: IISc, JNCASR, IIT Kanpur, IIT Delhi, BITS, VIT, NITs (Trichy, Calicut, Surathkal)

CSIR Labs: CGCRI, NML, NPL, CEERI, AMPRI, CSMCRI, CMERI, NIIST, CFTRI, IMMT, CSIO

Foreign Collaborators: NTU Singapore, University of Paderborn, Germany, Fraunhofer Institute for Surface Engineering and Thin Films, Germany, National University of Science and Technology, Russia; University of Notre Dame, USA; Laboratoire PROMES-CNRS, France.
INTRODUCTORY VIDEO ON ACTIVITIES OF SURFACE ENGINEERING DIVISION, CSIR NAL, BANGALORE, INDIA