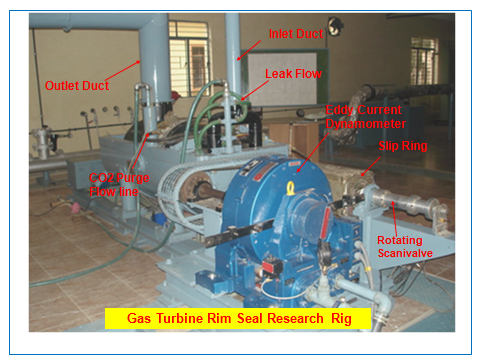 Heat transfer Lab
Film / Effusion Cooling Research Rig
Turbine Rim Seal Research Rig
Heat Exchangers Test Rig
1. Film / Effusion Cooling Research Rig
The film / effusion cooling research rig available at NAL is useful to generate the cooling effectiveness and heat transfer coefficient data on turbine nozzle guide vanes, rotor blades, flat and curved combustion chamber liner test plates. The test set up consists of a 130 kW air heater with PID controller, settling chamber, test section and exhaust duct. The test setup has a heat exchanger for the coolant air arrangement. IR cameras are used to capture the thermal images of the test geometries. The various flow and geometrical parameters can be tested for the heat transfer studies for the optimised use of coolant air. The test set can cater for the following conditions:
| | | | | | |
| --- | --- | --- | --- | --- | --- |
| Maximum Density Ratio | : | 2.0 | Coolant Temp. | : | -40 °C |
| Maximum Blowing Ratio | : | 5.0 | Main Stream Flow | : | 0.5 Kg / Sec |
| Main Stream Temp. | : | 120 °C | Main Stream Rey. No. | : | 2.5 x 105 |
The test rig has the various data acquisition modules like pressure scanner, 80 channel temperature scanner, Infra-Red cameras, RTD, thermocouples and coriolis mass flow meter.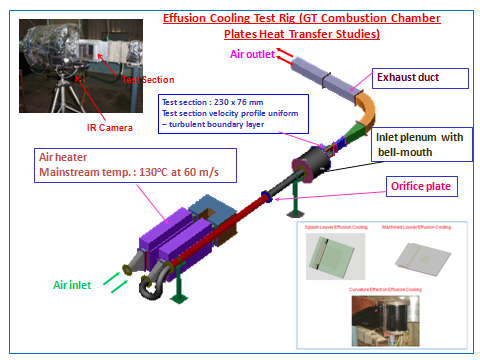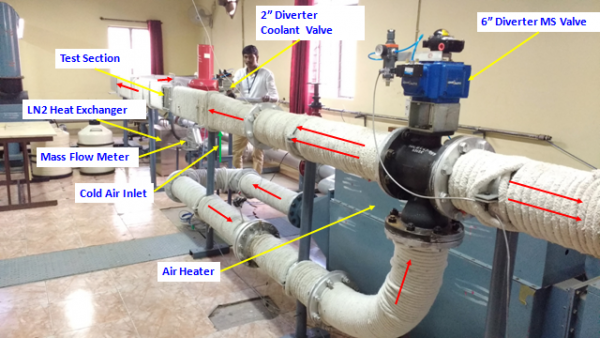 Effusion Cooling Test setup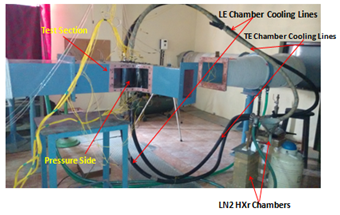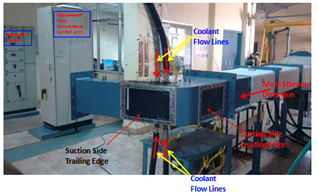 Film Cooling Test setup
2. Turbine Rim Seal Research Rig
The turbine rim seal research rig consists of an axial turbine with 44 inlet guide vanes and 58 rotor blades with 60% axial chord vane- rotor spacing. The design speed of the rig is 3200 rpm with the mass flow of 4.5 kg/s and flow coefficient of 0.4. The geometric variation of vane-blade spacing, rim cavity gap size, platform overlap and the flow variation of Reynolds number, purge flow and leak flow rates are possible in the rig. The ingestion is characterized by cooling effectiveness measurement using mass transfer technique with the purge flow of CO2 gas. The rig has a Scanivalve multiplexer and slip ring arrangement for measuring the pressures in rotating frame. This test rig also has a 64 channel pressure scanners to measure stationary pressures at various locations on casing and hub sides. An eddy current dynamometer is used to run the rig at different loadings on the rotor with a speed control at ± 2 rpm.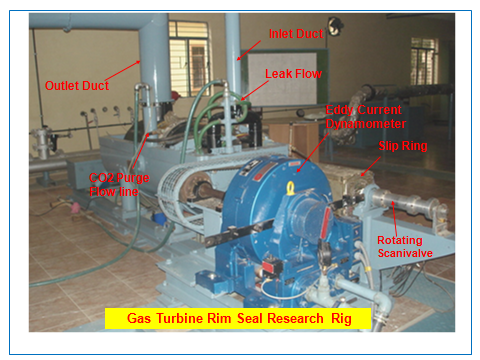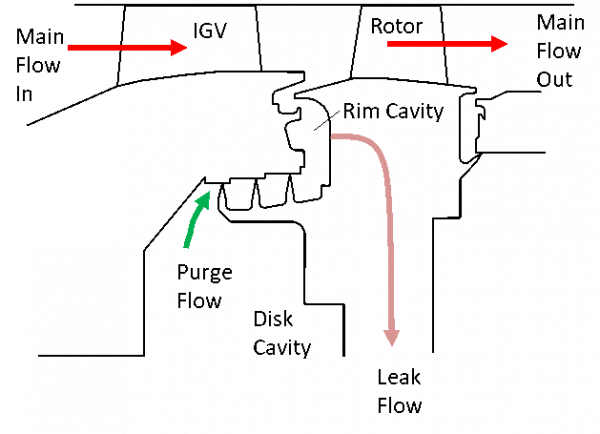 | | |
| --- | --- |
| Turbine Rim Seal Research Rig | Seal Geometry |
TRSR Rig Design Specifications

Special Features

:

44

Eddy Current Dynamometer Speed Control

Overlapping Seal

Leakage Flow Simulation

Rotor Blades

:

58

IGV- Rotor spacing

:

60% axial chord

Design Speed

:

3200 RPM

Mass flow

:

9.5 lbs (4.5 Kg/s)

Possible Operating Conditions

Cx/U

:

0.35 to 0.50

Mass Flow

=

3.1 Kg/ Sec

Rotor Hub Radius

:

11.6 Inches (294.6 mm)

Speed

=

2300 RPM

Rotor Blade Height

:

34 mm (Approx.)

P0 (PMMIN)

=

3.529 PSIG

Casing Inner Radius

:

12.925 Inches (328.3 mm)

Pexit (PMMEX)

=

1.895PSIG

Re (Hub)

:

2.4 x 106

P/P0 (Abs)

=

0.902

P/P0 (Hub)

:

0.896

Re (Hub)

=

1.4 x 106

Exit Mach No.

:

0.4

 

 

 
3. Heat Exchangers Test Rig
The heat exchanger test rig is useful to test compact heat exchangers for the thermal performance and pressure drops. The test rig is capable to test the 3 pass and 2 pass liquid air heat exchangers. It has a heater in the hot air line to provide air at 80 °C with 30 kg/min flow rate and it has a LN2 heat exchanger in the cold air line to provide air at -40 °C with 30 kg/min flow rate. It also has provision to supply ethylene glycol in the liquid line with 10 lpm flow rate at 10 bar pressure. Three Coriolis mass flow meters are available to measure the mass flow rates in the three lines. Also, provision for water spray injection to maintain the required inlet relative humidity condition in the cold and hot air lines is present in the rig.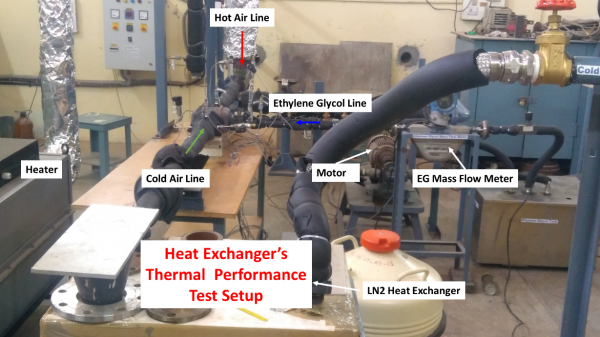 Heat Exchanger Test Setup
Heat Exchanger Test Rig Details

Hot Air Line

Mass Flow

:

0-30 Kg/min

Pressure

:

0-8 Bar

Temperature

:

RT to 80 °C

Cold Air Line

Mass Flow

:

0-30 Kg/min

Pressure

:

0-8 Bar

Temperature

:

RT to -40 °C

Ethylene Glycol Line

Mass Flow

:

0-30 Kg/min

Pressure

:

0-10 Bar

Temperature

:

RT to 80 °C