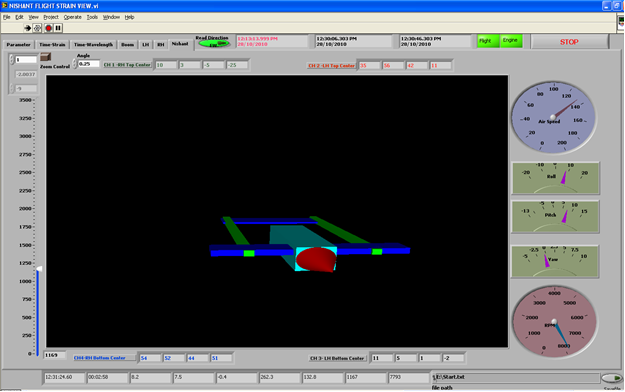 Structural Health Monitoring Using Fiber Bragg Grating (FBG) Sensors.
Out of different sensors for Aircrafts Structural Health Monitoring, Fiber Optic Sensors are the best choice due their small size, lightweight, ease of multiplexing and immunity to electromagnetic interference. Fiber Bragg Grating based sensors are best suited for the inflight strain monitoring application as the interrogators for the data acquisition are available in various form factors with necessary certification. Division is working on FBG based online strain monitoring and algorithms for the load estimation and demonstration through flight trials. Flight trials to establish the repeatability and reliability of the technology are currently under progress.
SHM group has developed expertise in
Sensor characterization for strain and temperature,
Strain temperature compensation,
Rugged embedment/integration schemes with the structure
Rugged routing connectorisation schemes
Instrumentation for ground based studies
In flight instrumentation and flight trials
Software for data acquisition and analysis
SHM group is currently pursuing the following techniques:
FBG sensor to measure acceleration, displacement, shape etc. with proper packaging
High Speed interrogators makes it possible to acquire the wave propagation through the structure and in turn can be used for the damage detection
The spinoff of these techniques can be used for other applications like infrastructure monitoring, landslide initiation detection, geological application etc.
Specifications:
Interrogators (Ground Based Application)
Micron Optics FBGLSI (100 Hz ,4 Channel)
Micron Optic sm130 ( 1KHz, 4 Channel with multiplexer 16 Channel)
Redondo Optics ( 500 KHz, Single Channel 4 sensor)
FOS&S Single Channel Handheld (1Hz)
FBG interrogator for in flight data acquisition
Smart Fibers Wx-m ( 2.5KHz, 4 channel) with flight data recorder
Major milestones / results of this technique
The technique has been demonstrated through flight trials on HANSA and on NISHANT UAV in collaboration with ADE, IAI and Tel Aviv University under I2MC project. A copyrighted software QuickVIEW© has been developed in LabVIEW for the flight data processing and in-flight load estimation along with flight parameters.
| | | |
| --- | --- | --- |
| | | |
| FBG sensor Packaging | QuickVIEW Software | In flight Strain and Load  |