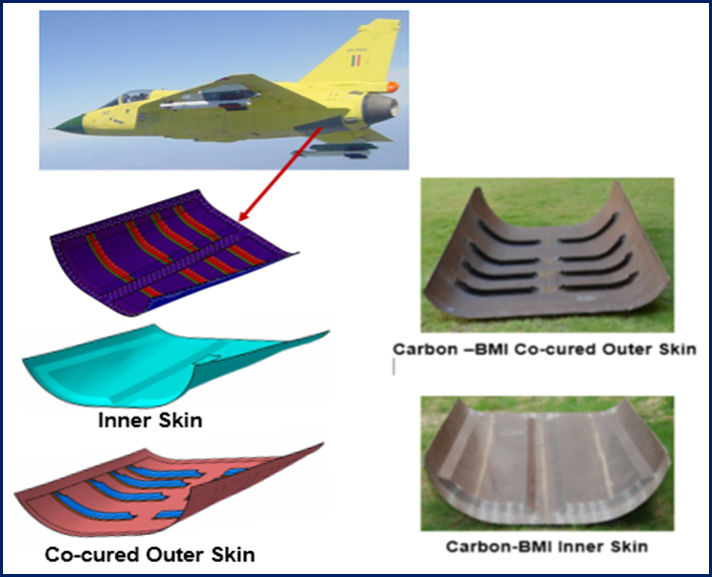 Innovative Co-curing Process Development for Carbon-BMI Composites
Most of the composite structures for the aircraft have been developed using carbon- epoxy prepreg material system, which can withstand maximum service temperature of 120⁰C temperature. Hence, this material system cannot be used in the hot zones like Engine vicinity areas. Carbon-BMI materials are used on some of the most important and complex high performance application ranging from military programs such as US Air force F 22 to Formula-1 race cars. This technology is useful for emerging aircraft engine programs for the development of Composite fan blades, fan cases etc. This development opens a new segment in the composite processing technology, where composite can be used up to service temperature of 230⁰C in any engineering sector.
Where this technique is used:
Autoclave processing of prepregs is a well-established technology in the aircraft industry. It offers excellent reliability and part quality mandated for airworthy parts using carbon-epoxy prepregs. Similar level of confidence was achieved by developing Engine Bay Door (Middle) of LCA-TEJAS for the first time in the country using Carbon-BMI prepreg.
The processing of Carbon-BMI is very tricky, because the resin become very thin as viscosity reaches 8-10 centipoises at higher temperatures. Hence retaining the resin within laminate is a major challenge. They emit volatiles and moisture during curing. Therefore, proper venting is necessary during the curing of these resins; otherwise, it may cause process-related defects such as voids and delaminations.
First time co-cured engine bay door was developed and undergone qualifications tests and cleared for flights trails by certification authorities. Presently LSP7 & PV6 aircraft (LCA Tejas) are flying in the Indian skies with this Engine bay Door Assembly.
Major milestones / results of this technique
This technology was developed within this country, which was denied past two decades from abroad.
Due to this technology 28% weight saving was obtained for LCA TEJAS aircraft.
Assembly cost is reduced due to skin –stiffened co-cured construction.
CSIR-NAL has the processing capability to produce highly contoured integral structure or simple component to resist temperature up to 200⁰C for any engineering field using carbon-BMI prepregs.
This technology opened a new segment in the emerging aero engine programs for the development of fan blades fan cases etc.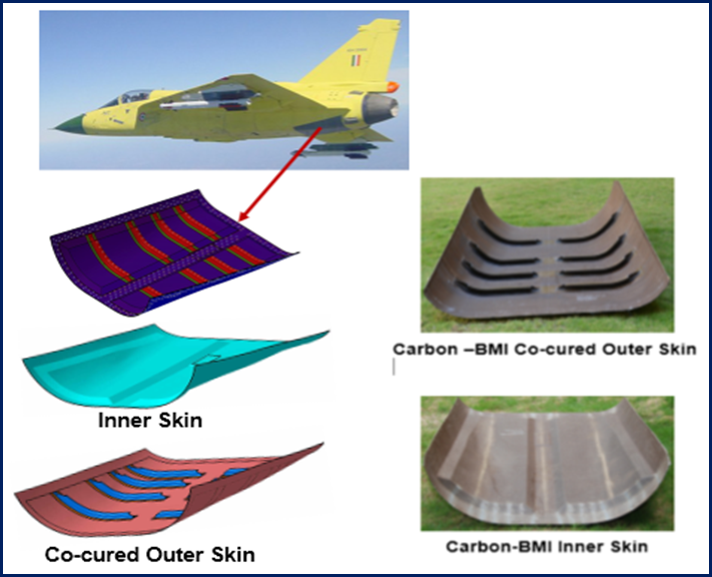 Exploded View of Carbon-BMI Engine Bay Door Assembly of LCA-TEJAS