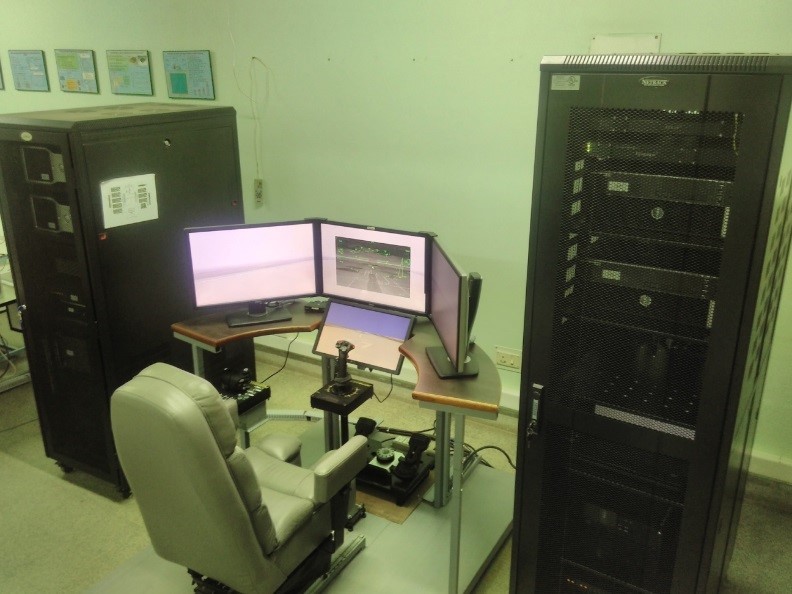 ESVS Flight Simulator
The ESVS flight simulator at the Flight Mechanics and control division is to carry out research and develop Enhanced and Synthetic Vision System (ESVS) operational concepts for all weather approach and landing and to provide quantitative and qualitative information that could be used to develop criteria for all-weather approach and landing. This facility has the capability to generate Enhanced Vision System (EVS) sensors image simulation at different environmental/visibility conditions, Synthetic vision system visuals, head up display (HUD) symbology specific to ESVS operations, fusion of EVS/SVS and symbolgy visuals and display on head up and head down displays. This simulator facility can be used by pilots and design engineers to evaluate ESVS operational concepts.
Specifications:
Simulation of all infrared spectrum sensors and electro-optic (EO) sensor visuals at different weather/visibility conditions.

HUD symbology simulation specific to ESVS operations

Fusion of EVS and SVS visuals with flight symbology

Playback of recorded EVS sensors data and aircraft navigation data from EVS flight experiments. 

Head up display and multi functional head down display.

Three window out-of-the-window (OTW) visuals with total FOV of 156 degrees horizontal and 39 degrees vertical. OTW visuals are generated using Open Scene Graph (OSG) library. The terrain database with 1 meter satellite imagery and level 2 terrain elevation data of HAL airport and its surrounding area.

Suitable for design engineer/pilot in loop simulation

SARAS class of transport aircraft flight model (MATLAB/SIMULINK block).

 Extensive user interface options to select phase of flight like approach/landing, take-off, cruise, etc. and to control flight simulation.
Techniques applied in this facility:     
Image fusion techniques: Laplacian pyramid, Principal component analysis.
Major clients of this facility: This facility is established for ESVS operational research intended for RTA programme.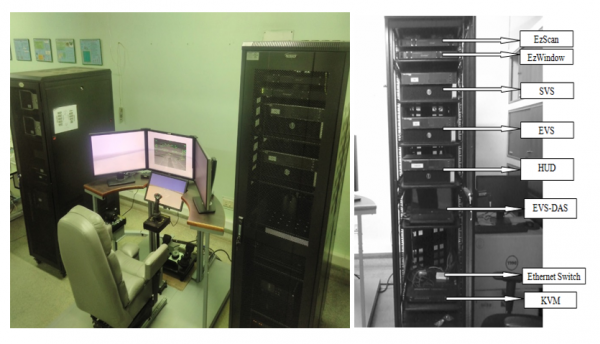 ESVS flight simulator with hardware components for EVS/SVS and HUD simulation