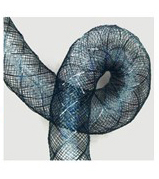 Nickel-Titanium Shape Memory Alloys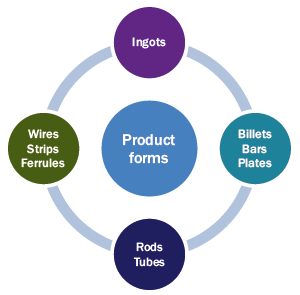 The Materials Science Division (MSD) of CSIR - National Aerospace Laboratories has been carrying out R&D on NiTi Shape Memory alloys (SMAs) since 2002. The Division has successfully developed the know-how for the processing of NiTi SMAs in various semi-finished and finished product forms. The SMAs developed are suitable for both engineering and biomedical applications. The technology has been transferred to Mishra Dhatu Nigam (MIDHANI) Limited, Hyderabad, a Defence Public Sector Undertaking (DPSU), in the year 2017, for commercial production and marketing. Currently, collaborative research is underway with the leading medical institutes of the country for design and development of stents for biomedical applications.
Shape Memory Effect and Superelasticity
Nickel-titanium (NiTi) SMAs have received considerable scientific attention because of their two unique functional properties: shape memory effect (SME) and superelasticity (SE). SME is the ability of the material to be deformed at low temperature and then revert to its original shape upon heating above a critical temperature. SE is the ability of the material to experience large recoverable strains when deformed within a temperature range. These, combined with the superior mechanical properties and corrosion resistance make SMAs as promising class of material for a variety of engineering and biomedical applications.

Processing Facilities
The laboratory is equipped with state-of-the-art processing facilities for undertaking R&D work on NiTi SMAs. The facilities include vacuum arc melting furnace, hot and cold rolling mills for wires and strips, wire drawing machine, heat treatment furnaces (controlled atmosphere and vacuum), special furnaces for shape memory heat treatment, set-up for stabilization of wire properties for repetitive strain applications.


Characterization Facilities
The SMA laboratory has the characterization facilities for evaluation of functional and mechanical properties of NiTi SMAs under application environment. The facilities include differential scanning calorimeter (DSC), universal tensile testing machine (UTM), rotating beam fatigue testing machine for wires, thermo-mechanical fatigue testing machine,
Modulated Differential Scanning Calorimetry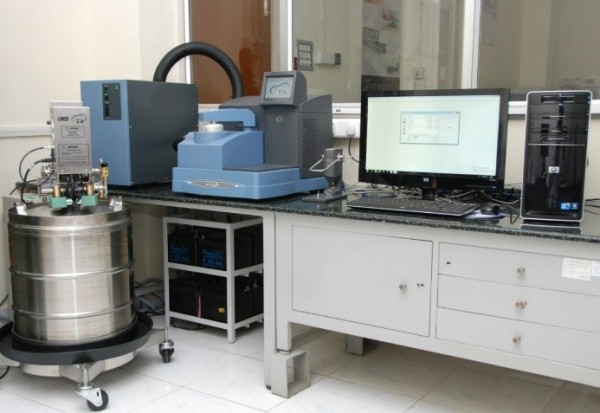 Study of phase transformation
Make: TA Instruments
Model: Q2000
Key Features
Temperature Range: -180 to 500°C
Temperature accuracy: ± 0.1°C
Sensitivity: 0.2 µW
Baseline reproducibility: ±10 µW
Universal Tensile Testing Machine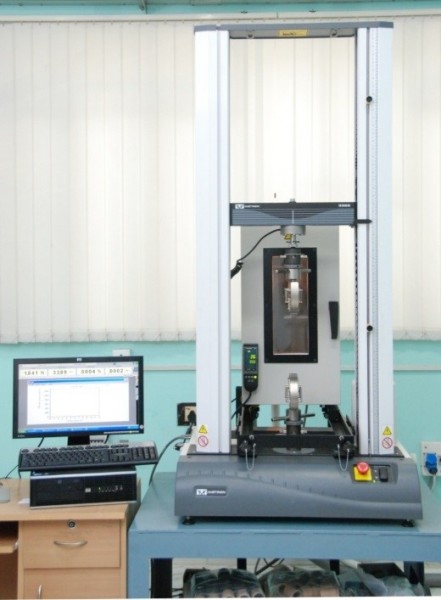 Evaluation of tensile properties
Electro-mechanical system for tensile testing of thin specimens (wires/strips) 
Make: Instron
Model: 3365
Max. Load: 5 kN
Temperature Range: -100 to 250°C
Key Features
Control: Fully automated through software
Speed Range: 0.01 to 1000 mm/min
Load accuracy: 0.5% of indicated load
Thermomechanical Fatigue Testing Machine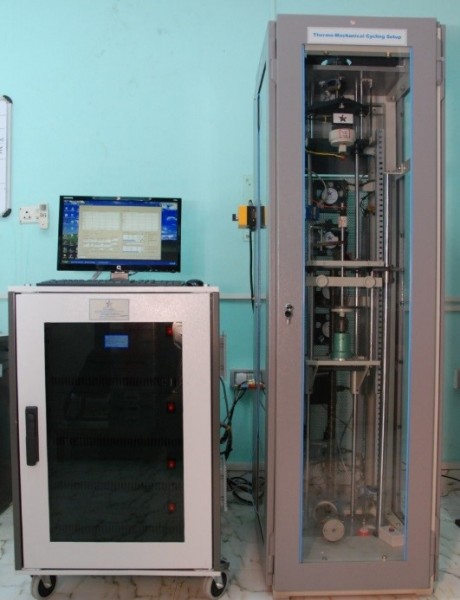 Evaluation of functional fatigue properties
Custom built apparatus for evaluation of thermo-mechanical fatigue behaviour of NiTi shape memory alloy wires. Conceptualized and designed by CSIR-NAL. 
Make: Pragathi Solutions, Bangalore
Key Features
Programmable heating /cooling cycle
Joule heating & forced/natural cooling
Strain measurement using non-contact laser
Stress measurement using load cell
Continuous data logging of stress/strain
Closed loop strain control using servo motor
  Rotating  Beam Fatigue Testing Machine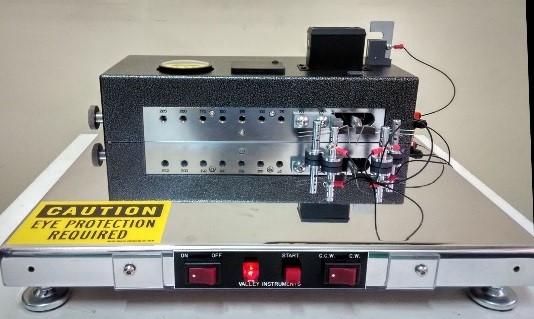 Rotating beam fatigue machine can be used for testing of small diameter wire in a simple and rapid method for obtaining fatigue strength and endurance limit values to serve as quality indexes.
Make: Valley Instruments, USA
Model: 100
Key Features
Suitable for mechanical fatigue testing of thin wires with diameter as low as 100 µm
NiTi SMA Products
The laboratory has also developed expertise for shape setting as well as surface preparation of the products depending on the nature of the applications. 
 Engineering  Products (technology transferred to MIDHANI, Hyderabad)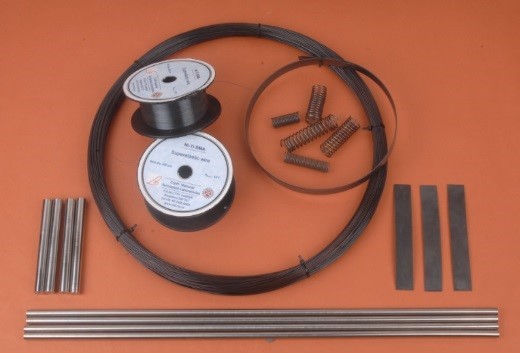 Biomedical Products
CSIR-NAL and Sree Chitra Tirunal Institute for Medical Sciences and Technology, Trivandrum have jointly developed three NiTi wire based enodovascular products viz., Aortic Stent Graft (ASG), Flow Diverter Stent (FDS) device and Atrial Septal Defect (ASD) closure device. The Transfer of Technology for manufacture of FDS device and ASD closure device is in progress to M/s Biorad Medisys Private Limited, Pune

R&D of NiTi base shape memory alloys for engineering and biomedical applications
Processing of NiTi SMA wires and strips with SME and SE
Microstructure, thermos-physical and mechanical properties evaluation
Study of functional fatigue behaviour in application environment
Design and development of customized shapes of NiTi SMA
High temperature shape memory alloys (NiTiPt/Pd)