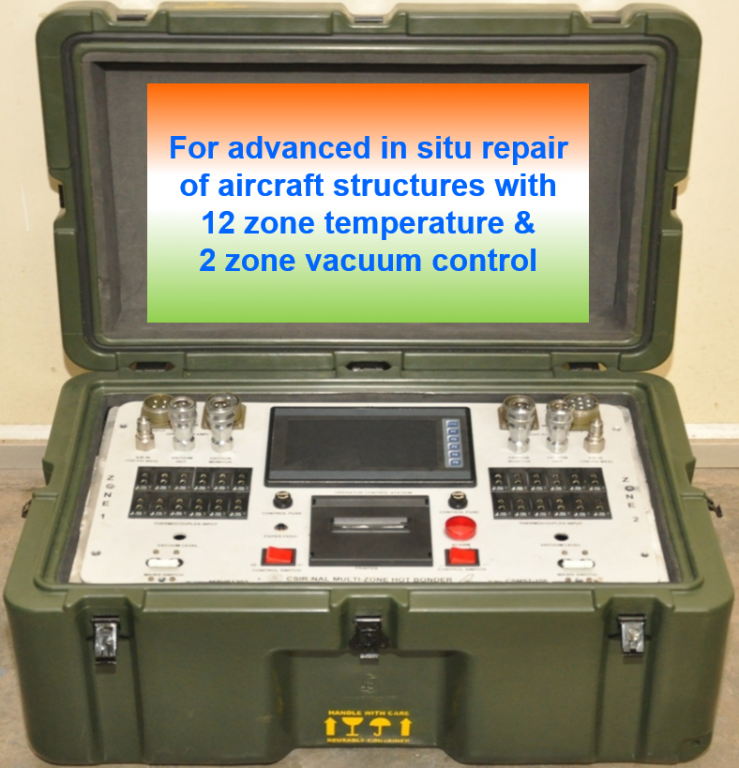 Multi Zone Hot Bonder
Repair techniques for aerospace and other advanced composite structures enhances their useful life and saves time and money. Among the various repair techniques, hot bonding is widely acclaimed for its ability to restore the strength close to the original values. It is used for the repair of metal or composites structures. Hot bonding performed using flexible heater blanket and vacuum bag is the most suitable method for in situ repair.
Hot bonding is performed through elevated temperature cured adhesive system, which increases the glass transition temperature and hence the service temperature of the final product. These adhesive systems are sensitive to temperature gradient. The hot bonding equipment currently being imported (none manufactured within India) does not ensure temperature uniformity. To overcome these problems CSIR-NAL has designed and developed a multi zone, portable hot bonding equipment that uses multiple numbers of appropriately placed heater blankets, sensors and a data acquisition device coupled with a novel control algorithm and software. This product can maintain the given temperature profile simultaneously at 12 locations. An image of the NAL's 'Multi Zone Hot Bonder' and its salient features and specifications are given below.
Specifications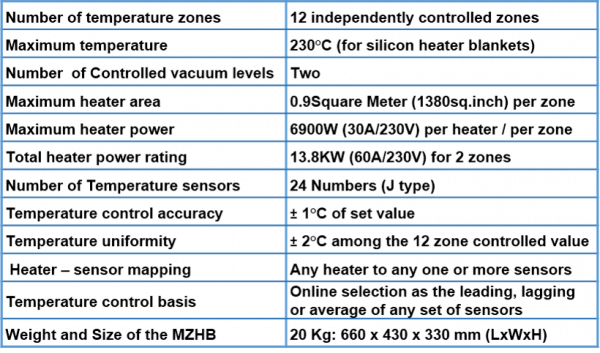 Salient Features

 Safeties

 

7" Colour touch screen (PLC-HMI) controller
2 simultaneous repairs with independent    12-zone temperature control
Menu driven program to create, run & view Cure Cycles (CC)
Online and offline reporting / printing
Hold, modify & continue or extend CC
Power interruption management
Customization requirements are welcome

Detection of heater–sensor mismatch
Sensor failure management
Protection against sensor faults such as Open, Short or improper contact
Auto-hold if Temp. Gradient or deviation exceeds limit
Over temperature cut-off
Alarm on vacuum failure and other faults