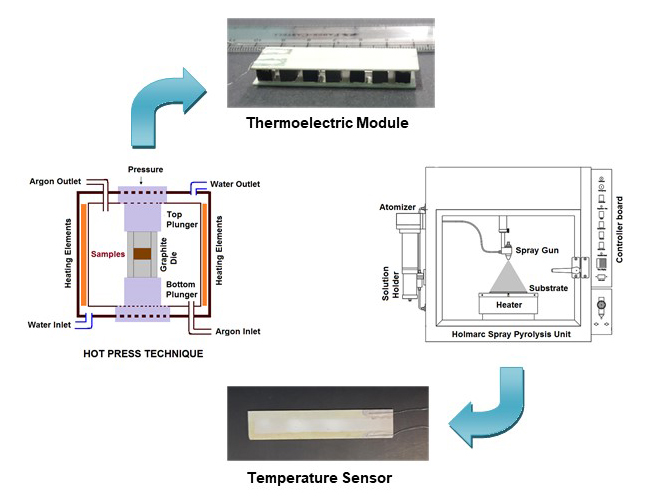 Thermoelectric Materials, Thin-film and Devices
Thermoelectric materials in bulk and thin-film form have application as energy harvesting from waste heat and temperature sensor under harsh condition of turbine system. The hot-press technique at high temperature is used to develop thermoelectric module and spray pyrolysis technique is adopted to develop thin-film sensor.
Brief description of the technique
Thermoelectric materials and energy harvesting devices are fabricated from bulk ceramic block developed through hot-press sintering technique at high temperature and pressure and inert atmosphere. The hot-press block of highly dense thermoelectric oxide is shaped as cube or cuboids depending on the dimension of the module and arranged on conducting plate is n-p-n-p form to develop an electrical circuit where the elements are arranged electrically in parallel manner.
Thermoelectric thin-film and temperature sensor are fabricated through spray pyrolysis technique on insulating as well as metallic substrate. In this technique, the precursor solution of the sensor materials were sprayed on heated patterned surface of the substrate.