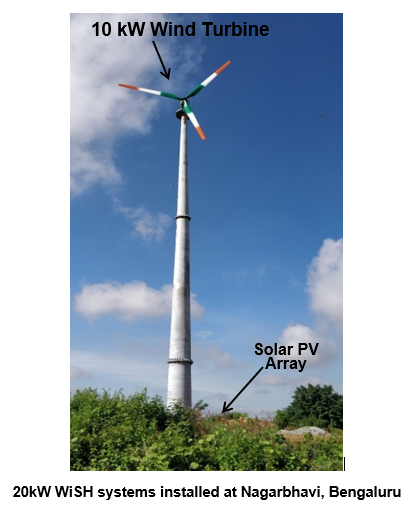 Wind Solar Hybrid (WiSH) systems
The knowledge base of aerodynamics and composite technologies related to high-end aerospace applications are being utilized for spin-off societal applications in the renewable energy sector. CSMST has designed and developed small WiSH systems in the range of 1kW to 20kW capacities.
Under the Renewable Energy Initiatives, 5 systems have been commissioned in colleges in the last one year. These institutions are Jyoti Nivas College, Vivekananda Institute of Technology, East West College of Engg., AMC Engg. College and Christ University. In addition, 4 more systems of 1.5kW have been commissioned at CSIR-IMMT, Bhubaneshwar campus under CSIR 800 Banner program.
NAL has developed 10kW (5kW Wind + 5kW Solar) & 20kW (10kW Wind + 10kW Solar) WiSH systems. The 10kW WiSH system is commissioned at NAL Renewable Energy Farm at Kodihalli Campus. Powering of Agri pumps has been demonstrated using the WiSH system.
The 20kW WiSH system has been commissioned on a hillock at Nagarbhavi, Bengaluru in association with KREDL, Govt. of Karnataka.