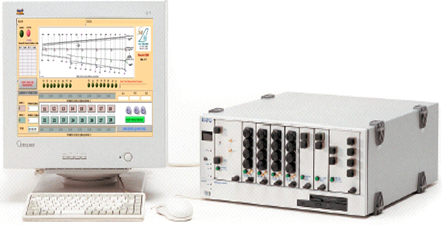 Resin flow front monitoring using Fiber Optic Sensors
One of the concerns in resin infusion process, especially when making large integrated co cured aircraft structures with varying thickness, is the knowledge of the flow front location at all times.  The occurrence resin starved areas or improperly wetted preform on an infused part could lead to its rejection. SHM group has developed a Fiber Optic based resin flow front monitoring for the Vacuum Enhanced Resin Infusion Technology (VERITy) process and demonstrated it on the infusion of wing skin. The principle is based on the Fresnel reflection from the ends of the optical fiber. A complete system is made using commercially available off-the-shelf devices and necessary algorithms were implemented for the instrument control and distributed tracking of resin flow front. The complete technique consists of three parts
NetSense – Low cost reusable fiber optic sensors with installation scheme
 FlowSense – Multichannel, modular, scalable measurement system using COTS instruments
 ResinVIEW – GUI based real-time resin flow visualization enabling sequential infusion
This technique provides in-situ real time resin flow visualization, which will help in taking preventive action during the course of resin infusion. This technology also provides information about the resin arrival time in complex composite structures, which can be used for validating resin flow models.
Specifications:
EXFO Fiber Optic Test modular test system consisting of Laser module, 3dB Couplers, two 1 x 8 Optical Modules and detector module consisting of two detectors
Major milestones / results of this technique
The system and methodology was used in fabrication of SARAS wing parts.
| | | |
| --- | --- | --- |
|   |   |   |
| NetSense | FlowSense | ResinVIEW |